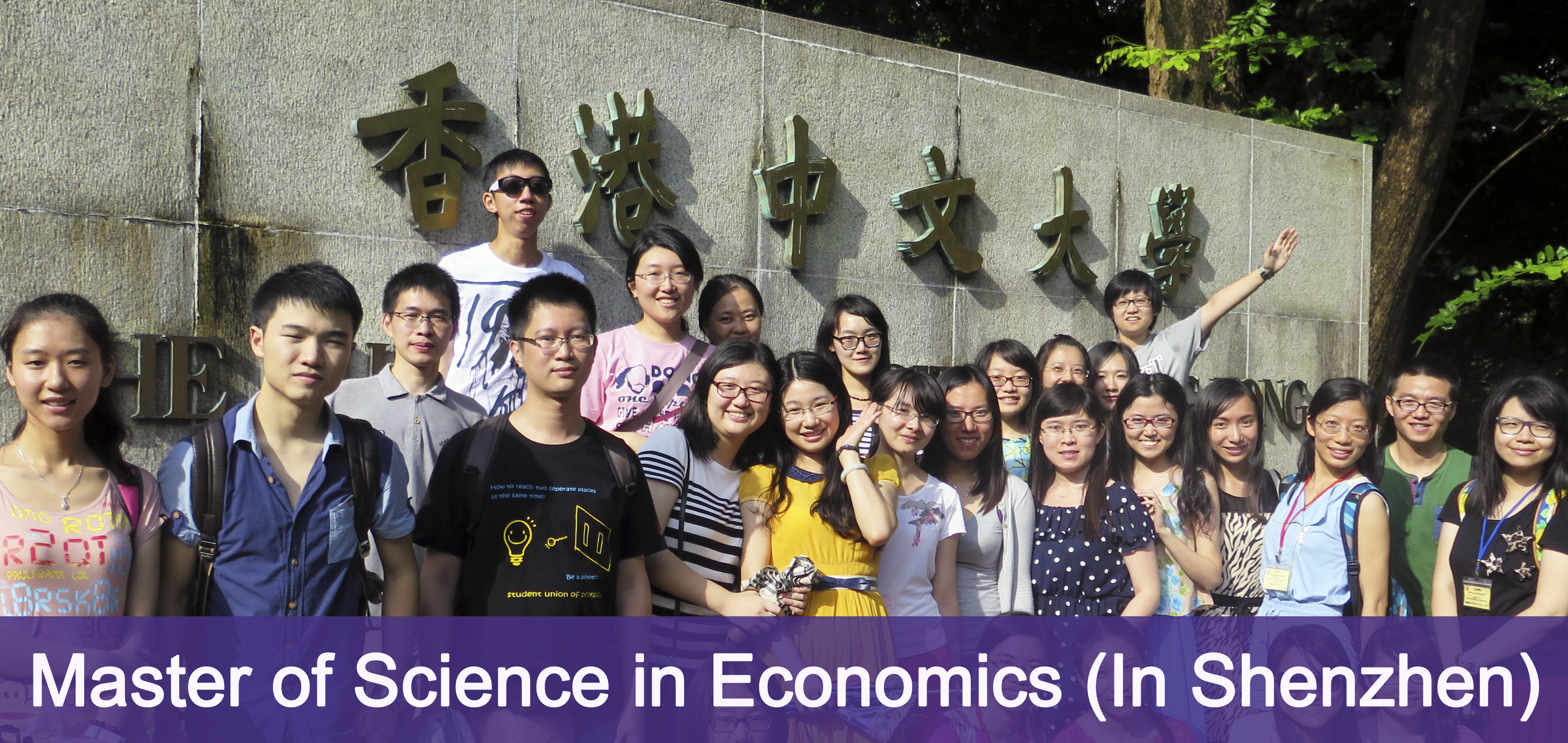 (只提供英文版本)
Department Highlights
Highly Ranked Globally
The Chinese University of Hong Kong ranks 8th in Asia and 46th in the world in the field of Economics and Econometrics (QS World University Rankings by Subject 2016).
Distinguished Alumni
Over decades, the CUHK Department of Economics has nurtured many distinguished alumni, who have contributed in different sectors of the community. They include Mr. Vincent Cheng, the first Chinese Chairman of HSBC; Mr. Kwok Kwok Chuen, former Principal Economist at HKSAR Government.
Research Excellence
The Department of Economics is renowned for its strength in research in the Chinese economy, economic theory and labour economics.It is also the only economics department in Hong Kong with two Nobel Laureates among its staff.
Introduction
This M.Sc. programme is jointly offered by the Chinese University of Hong Kong and the HSBC Business School of Peking University (PHBS), with CUHK awarding a Master in Economics and PHBS awarding a Master in Finance. The programme offers courses at PHBS campus in Shenzhen with a one-week summer workshop conducted at CUHK campus to enhance students' learning experience.
Objectives
Endows students with advanced knowledge in economic science including both microeconomics and macroeconomics so as to lay a solid foundation for advanced studies in applied fields and research work.
Cultivates skills in quantitative analyses involving the application of econometric tools to analyzing data sets, deriving estimates, testing hypotheses, and making forecasts.
Equips graduates with economics knowledge and econometrics skills to make economic analysis.
Programme
Mode of Study
Part-time
Duration of Study
Normative study period: 34 months
Maximum study period: 4 years
Coursework Requirement
Lecture courses
Students are required to complete a minimum of 24 units of courses for graduation.
Required courses: 12 units (3 units per course)
ECON5011, 5021, 5101 and 5121
Elective courses (availability varies from year to year): 12 units (3 units per course)
ECON5130, 5150, 5160, 5170, 5310, 5410, 5420, 5430, 5440, 5450, 5460, 5470, 5480, 5490, 6010, 6810, 6820 and 6830
Graduation Requirements
Complete 8 courses (total 24 units) successfully and obtain a cumulative overall GPA of at least 2.0 in order to graduate
Complete the Master of Finance programme of PHBS
Events
Summer workshop in Hong Kong with academic seminars, visits and campus tours is organized for the students.
Seminars by Distinguished Speakers
Visits
Campus Tour